Not gonna lie, this year had a lot of twists and turns. That said, I had the honor to create a lot of fantastic projects. Here are some of my favorite illustration, animation and design projects with samples from 2022.
---
VooDood Challenge 2022
For the ninth year, I produced a collection of one of a kind VooDoods. These are original voodoo doll sculptures that are revealed one by one over the course of two months. Each are named, by YOU, and without fail, the names that you give them add meaning and breathe life into each piece. Each year the collection is based on a theme, and the 2022 collection was a love letter to film. The tenth anniversary is just around the corner, and I cannot wait to share the new pieces with you. In the meantime, here are some highlights from the 2022 collection.
---
Resist the Machines video
I love to draw and I love to sculpt, but I've always wanted to make a short film. Animation is another passion of mine. It is labor intensive, requires a lot of discipline and attention to detail, and it is incredibly satisfying to see a piece come together.
When our friends in Have Gun, Will Travel came to me with a loose idea for an animated music video for their new song "Resist the Machines," I knew that I had a dream project on my hands. They allowed me to run with the concept and gave me complete creative freedom to create this animated Batman meets Ninja Turtles meets comic book adventure. It was an absolute pleasure to concept, illustrate and animate this gem.
Also doesn't hurt that the song is a complete banger.
---
Coffee cup doodles
As I found myself working in the office more frequently this year, I took advantage of a new canvas: paper coffee cups. Our office kitchen provided a seemingly endless supply of inspiration. All I had to do was hold them up to my face!
---
Illustrations inspired by "The Sandman" by Neil Gaiman
I am such a Neil Gaiman fan, and the release of the audiobook series and Netflix series of "The Sandman" was a highlight of my year. I felt compelled to mash up two of my favorite universes and re-imagine characters from "The Sandman" as Jim Henson's Muppets.
---
Fangsgiving V
I look forward to our annual Halloween bash here in Tampa every year. It's two nights of our favorite local bands suiting up and performing as other bands, such as The Clash, Joan Jett and Bon Jovi. This year I had the pleasure of designing the official poster and an animated promo for the event. I am known for having an illustrative style, so it was fun to do something very stark and graphic for this project.
---
Snowman stick man animation
2022 was a year of animation coming back into my life, and this lovely little piece was another example of someone trusting me to come up with a concept and run with it. I came up with a humble stick figure snowman recapping the challenges and triumphs of the year on a piece of notebook paper. The result was charming and exactly the way I want to remember this year.
---
Visual notes
2022 was the year that I took my illustration skills to the big stage! I am what people call a visual scribe. I attend events and translate what is being presented into an illustration. It's a great tool for connecting people with concepts and creating a memory of a presentation or event. There is something magical about seeing one's words come to life in a drawing that is created in real time. It is an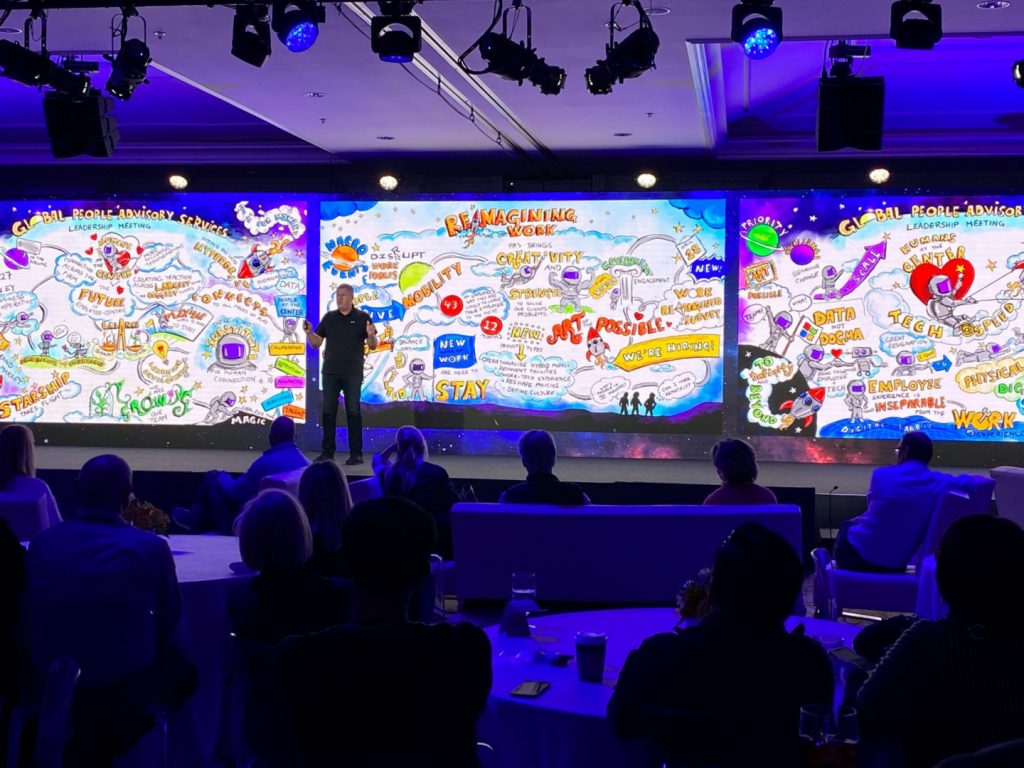 ---
Drunken Turkey Fry Led Zeppelin tribute
On the heels of our success with the Fangsgiving event, I had the opportunity to create a poster to promote a pre-Thanksgiving concert featuring an epic (not exaggerating) Led Zeppelin tribute and some of the best deep fried turkey I have ever had! Again I was given creative freedom, so I decided to do an homage to the classic Zeppelin Icarus…with a turkey leg in his hand. That grew into a series of Zep inspired sigils, using Thanksgiving staples such as corn, mashed potatoes and pie, and the classic "Zoso" image became the face of what else…a turkey!
---
Inktober
Inktober is a challenge taken on by creatives all over the world each October. The rules are simple: Create something with ink every day of the month and share it on social media. I tend to draw every day as it is, so to up the level of difficulty this year, I chose to use my body as a canvas. I followed the official Inktober prompts this year, which yielded some interesting results. It was a challenge that I truly enjoyed.